*Note: Purchases must be in quantities of 3 bottles (3,6,9,etc.) (mixes accepted) and ship within NY State.
Paint-Ur-Pet - PuppyUp
Paint-Ur-Pet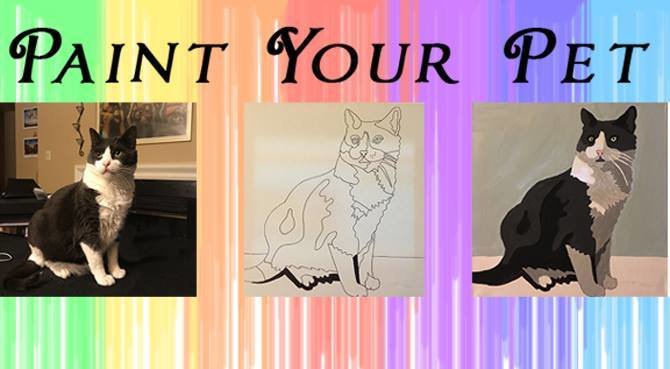 Transform your favorite photo into a beautiful work of art!
Maryanne Rappaport of Paint-Ur-Pet will sketch your supplied image of your pet(s) or subject onto a canvas waiting for you to pick up at the PuppyUp Walk on September 22, 2019.
Pictures of your pets or subject must reach us by September 14, 2019.
Pets not cooperating for one photo? No problem! We'll combine up to four photos on one canvas.
Price includes everything you need to create your work of art. Canvas, paints, brushes, and support from Maryanne Rappaport.
One pet/subject 12"x12" canvas - $45.00
Two pets/subjects 11"x14" canvas - $60.00
Three pets/subjects 16"x20" canvas - $75.00
Four pets/subjects 16x"20" canvas - $100.00
DIY Kits: will need to be picked up at the 2019 PuppyUp Walk at Saint Hubert's Lodge at Guarino Farms on Sunday, September 22, 2019.
If you can't attend the 2019 PuppyUp walk and still want to support PuppyUp, please choose the DIY (MAIL) Kit. For an additional $7 have your kit mailed to you.
You can choose from realistic coloring to funky colors (think Andy Warhol). All supplies and instructions are supplied for you to create your very own masterpiece.
Registration closes September 14, 2019.
65% of the proceeds goes to PuppyUp Foundation.
* After paying for your reservation, photos and any special instructions should be submitted to: mare027@yahoo.com or 518-836-4666
Great for: Pet Photos – Memorial Pictures – Travel Photos – Special Occasions
Ticket
DIY (PICK-UP) One pet/subject 12"x12" canvas (45) DIY (PICK-UP) Two pets/subjects 11"x14" canvas (60) DIY (PICK-UP) Three pets/subjects 16"x20" canvas (75) DIY (PICK-UP) Four pets/subjects 16x"20" canvas (100) DIY (MAIL) One pet/subject 12"x12" canvas (52) DIY (MAIL) Two pets/subjects 11"x14" canvas (67) DIY (MAIL) Three pets/subjects 16"x20" canvas (82) DIY (MAIL) Four pets/subjects 16x"20" canvas (107)